Why Dezine Quest Is Better Than Other NIFT Coaching Institute In Delhi?
15 years in the education sector and counting! Dezine Quest has maintained an excellent track record for the past 15 years in delivering outstanding results in various DESIGN ENTRANCE EXAMS such as NIFT, NID, UCEED, B.Arch. & NATA year on year.It's integrated teaching and guidance approach not only makes student shine during their entrance examinations but also ensures that their students are listed as a top achiever/ranker in India. All the Study Materials & Assignments are comprehensively curated by subject matter experts that empower students with an in-depth understanding of all crucial topics from various subjects to help students stay ahead of the curve. With a generous pool of dedicated, highly professional and experienced faculty members, Dezine Quest, the top NIFT Coaching Institute in Patna/Ranchi/Lucknow/Kolkata/Delhi, maintains an excellent student-faculty ratio to attend every student with extra care, guidance and doubt clearance.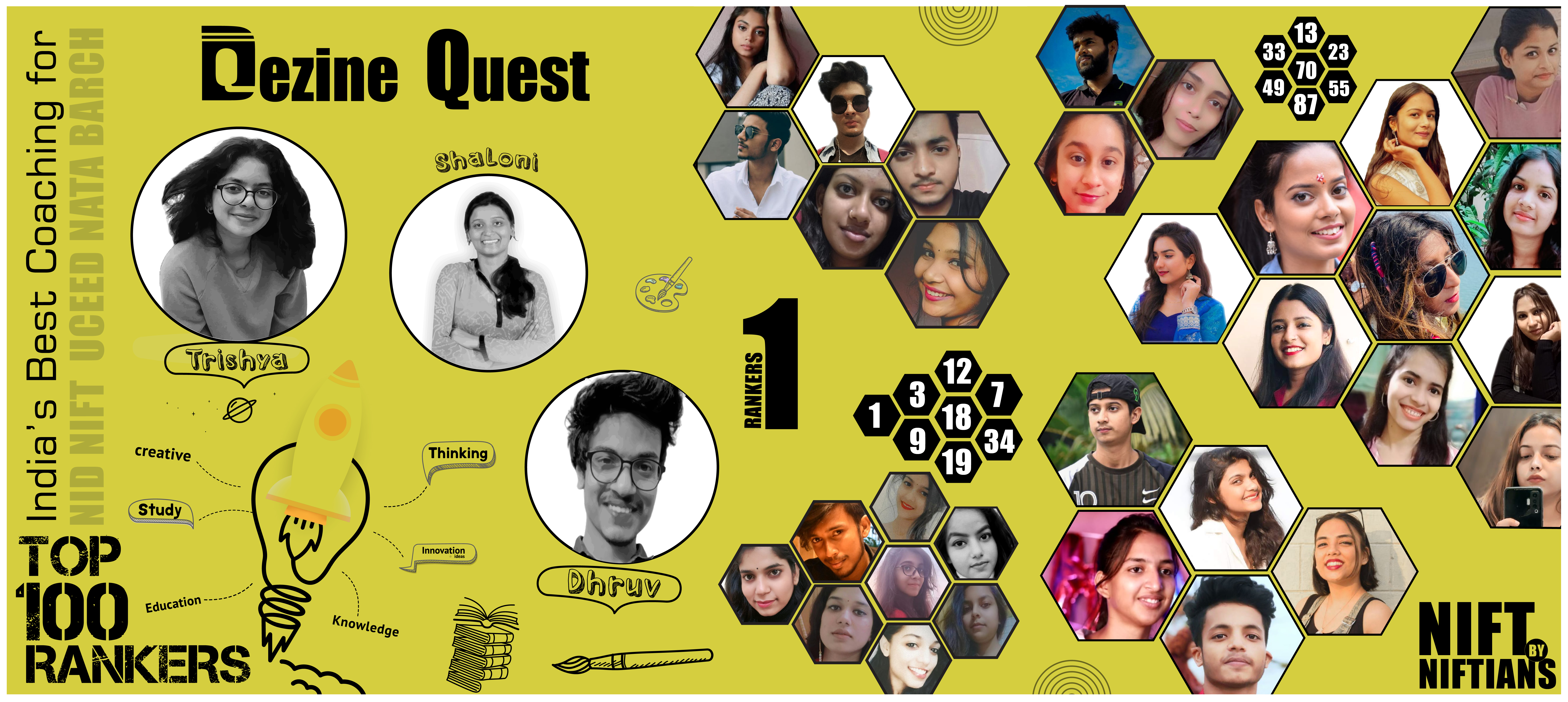 Why Should Students Or Parents Consider DEZINE QUEST Institute And How DEZINE QUEST Will Help Students To Crack NIFT Exam With Best Score In Delhi?
1. Integrated Indoctrinating Approach: The Standardized Education System on the basis of new Design Policy at Dezine Quest ensures impeccable and consistent coaching by its professional faculty members from IIT, NIFT and NID. Every effort is made to make the concepts transparent to the students. The teaching technique is so unique and holistic that it not only generates excellent classroom discussion but also precisestudy material. Each lecture is planned to ensure that the content delivered is standard, qualitative and completed in the stipulated time.
2. Good Track Record of Results: Dezine Quest has maintained an excellent track record of results in all TOP DESIGN ENTRANCE EXAMS for more than 15 years.
3. Professional faculty:Dezine Quest has generous pool of Highly Creative, Talented and Professionally Trained Faculties recruited from National Institute of Fashion Technology(NIFT),National Institute of Design(NID) and other Premier Universities. The eminent qualification and wealth of experience of faculty members helps to make complex problems easy for students.
4. Regular Assignments Doubt Classes and Test: Dezine Quest offers doubt sessions regularly so that students can clear their doubts.
5. Doubt Sessions: Dezine Quest has maintained an excellent track record of results in all TOP DESIGN ENTRANCE EXAMS for more than 15 years.
6. Online Classes:Dezine Quest provides online courses for those students who are unable to take their classes' offline or belong to those places where Dezine Quest do not have any branch. For online classes Dezine Quest has all state of art infrastructure and latest edutech facilities.
7. Daily Attendance Monitoring: Every day the attendance of the students is monitored and the parents of absent students are informed so that the students remain regular and do not miss their classes.
If you're an aspirant desiring to have a career in the field of fashion, design, technology and management, Dezine Quest is considered to be finest and Top NIFT Coaching Institute in Delhi to study in. It's pioneer in providing education in the field of designing with quality teaching and several other facilities to benefit from. After establishing its Goodwill in Eastern India, now Dezine Quest opened its branch in Delhi where you'll get free demo classes, a couple of design entrances workshop byNIFT, NID, IIT Alumni in Delhi, NCR.Choose alwaysBest Nift Coaching institute in Delhi for practical skill. Get high score marks in Nift exam 2023 with us.