NIFT, NID Coaching and Entrance Exam Preparation Center in Delhi, NCR by Dezine Quest
Dezine Quest NIFT Coaching in Delhi is mainly based on designing courses and pieces of training those are related to National Institute of Fashion Technology (NIFT), National Institute of Design (NID), NIFT B. Arch Entrance Exam Preparation; those all fashion designing training is conducted by our top fashion designing colleges alumnus and specialists with the superb and masterly technique of teaching methodology. Dezine Quest NIFT Coaching Institute in Delhi is always pursuing the entire steps of the training session in the workshop it is either theoretical or practical or any maxim which all are graspable by all the students easily and naively.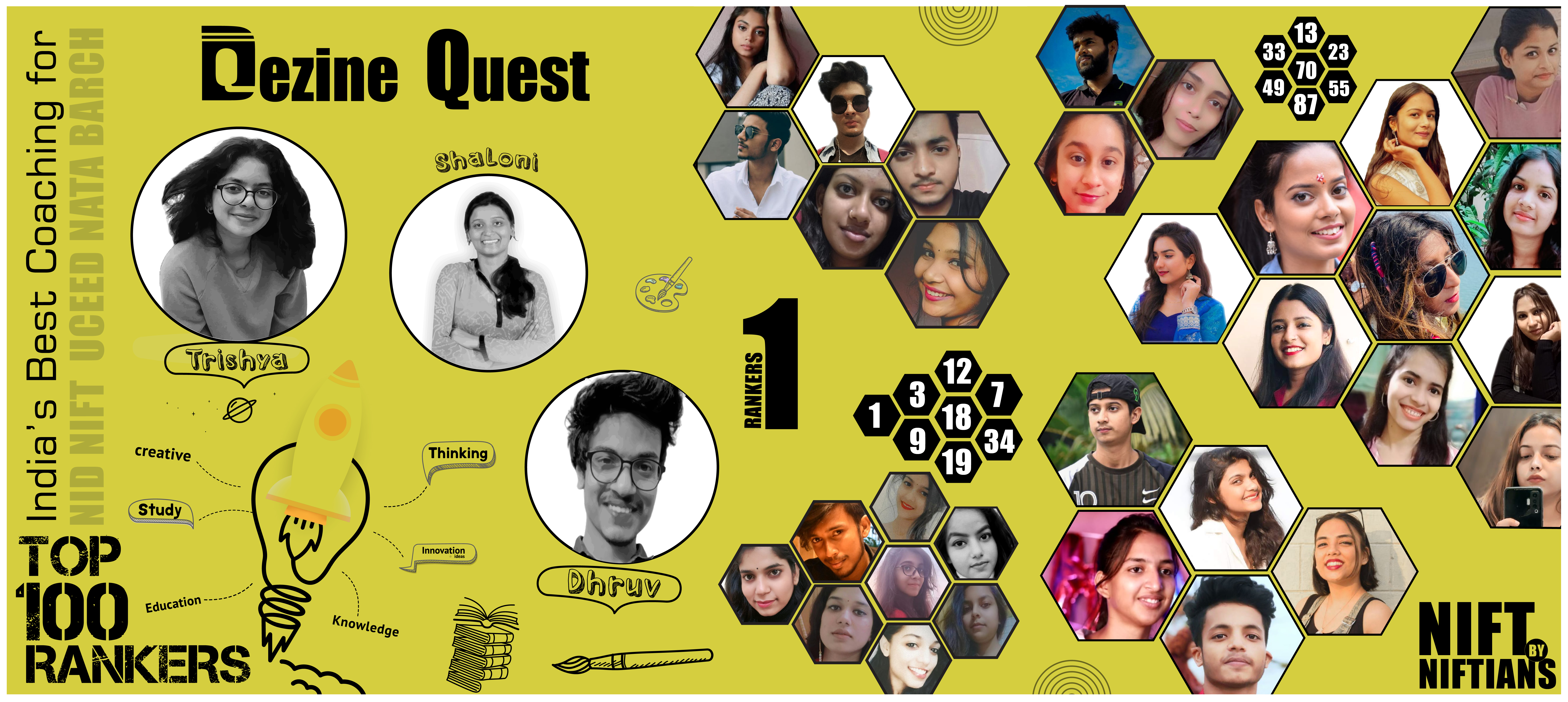 Dezine Quest Best Coaching Institute for NIFT in Delhi has become from good to better and now the best only for the true preparation, maximum producing toppers and the highest satisfactory students' feedbacks. First of all, NIFT Preparation Classes in Delhi is initiated by the basic concept and after some time being it provide the students the very latest technique, the easiest designing and modelling and the most advanced thing how to compete the entrance exam and obtain the highest marks tricks and innovative ideas in a very span of time with the collaborated and technical amity.
Demo Class Free, a couple of Situation Test Workshop by NIFT by Niftians Alumnus in Delhi, NCR
We provide Demo Class free of cost by which the students can comprehend our lucid curriculum and training of NIFT, NID entrance exam preparation system.
We offer a couple of situational test alike the entrance exam in workshop under the supervision of our experts and well-educated mentors.
We do have workshop which is in the interest of entrance exam pursuing the same environment and running classes alike entrance exam classroom.
We always try to do new and kinetic for the students for that our experienced and world-class mentors assist all the candidates to get them aspired, inspire them and keep them refreshed in the whole classes.