Welcome to Dezine Quest NIFT Coaching in Patna!
At Dezine Quest, we offer comprehensive coaching programs for students aspiring to crack the National Institute of Fashion Technology (NIFT) entrance exam. Located in Patna, we are dedicated to providing high-quality training and guidance to help you achieve your dream of securing admission to NIFT, one of the premier fashion institutes in India.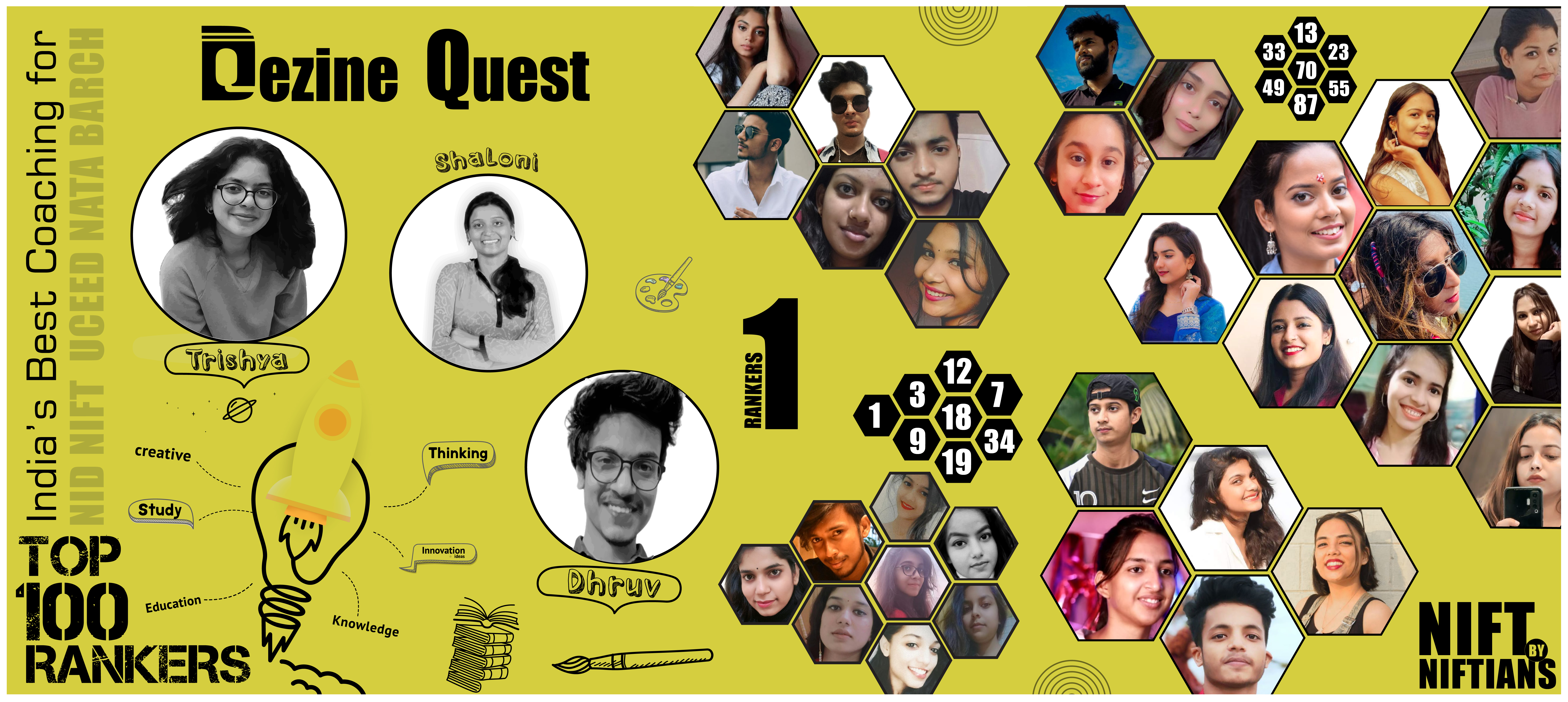 Why Choose Dezine Quest NIFT Coaching in Patna?
Experienced Faculty: Our coaching center is staffed with highly qualified and experienced faculty members who possess in-depth knowledge of the NIFT entrance exam pattern and syllabus. They provide personalized attention, guidance, and support to each student, ensuring a conducive learning environment.

Comprehensive Curriculum: We have designed a comprehensive curriculum that covers all the essential topics and concepts required for the NIFT entrance exam. Our structured teaching methodology helps students grasp the fundamentals, enhance their creativity, and develop their problem-solving skills.

Mock Tests and Practice Sessions: We conduct regular mock tests and practice sessions to simulate the actual exam environment. These sessions help students familiarize themselves with the exam pattern, improve their time management skills, and gain confidence in tackling different types of questions.

Study Materials and Resources: We provide well-researched study materials, including books, notes, and online resources, to our students. These materials are specifically curated to align with the NIFT entrance exam syllabus and cover all the relevant topics comprehensively.

Individual Attention: We believe in providing personalized attention to each student. Our batch sizes are kept small to ensure that our faculty can focus on the individual learning needs of students, identify their strengths and weaknesses, and provide tailored guidance accordingly.

Portfolio Development: In addition to exam-oriented coaching, we also assist students in developing their portfolios, which are an essential component of the NIFT admissions process. Our experts guide students in showcasing their creative work and unique style to create an impressive portfolio that stands out during the evaluation.

Counseling and Career Guidance: We offer counseling and career guidance sessions to help students make informed decisions about their future. Our experienced counselors provide valuable insights into the various design disciplines, career prospects, and industry trends, empowering students to make the right choices.

Join Dezine Quest NIFT coaching program in Patna and let us help you unlock your potential, refine your skills, and maximize your chances of success in the NIFT entrance exam. Our goal is to provide you with
the knowledge, confidence, and competitive edge necessary to secure admission to NIFT and embark on a successful career in the field of fashion and design.
Contact us today to learn more about our coaching programs, admission process, and class schedules. We are excited to embark on this journey with you and help you achieve your goals!