NIFT- SITUATION TEST
National Institute of Fashion Technology conducts a Situation Test which is the last step in order to get admission in Bachelor of Design programmes offered at NIFT campuses. This test is conducted for the candidates who have cleared the written exam. NIFT entrance examination comprises of 3 steps: Creative Ability Test (CAT), General Ability Test (GAT) and the last is Situation Test.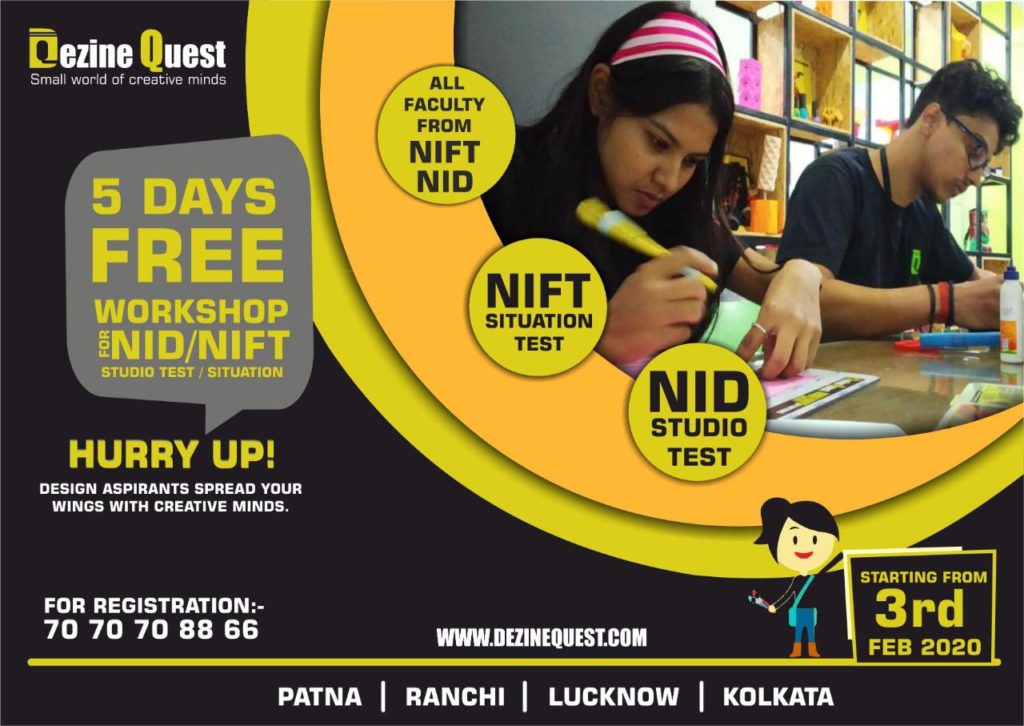 What is a situation test?
It is a practical examination at the NIFT centre wherein the candidates are given a set of materials and they are asked to make use of the materials to create a 3D model depending on the questions. The duration of this test is two hours. Candidates are also required to caption the model and submit a write-up explaining the model.
Importance of situation test
Situation test is one of the most important step in clearing the NIFT entrance examination. It is done to evaluate the creativity and innovation ability of the aspirants. A team of experts evaluate the candidates on the basis of usage of the materials provided to the candidates to create a model. Candidates are also evaluated on their time management, creative thinking, uniqueness of the model, the way the model is placed, working methodology, overall presentation etc. This test carries 20% weightage.
Dezine Quest-Preparation for Situation Test
We at Dezine Quest conducts practice sessions for Situation Test in which the students are trained to work with several materials at a time and come up with unique designs. In this course, the students are trained by our faculties from NIFT and NID to deal with all sort of design problems and enhance their innovation and creativity skills.
Dezine Quest is one of the best NIFT preparation institutes in Patna, Ranchi, Kolkata, Lucknow which helps in preparation of Situation Test under the guidance of its esteemed teaching professionals from NIFT, NID itself.Interactive sessions, doubt clearing sessions, portfolio preparation sessions etc are conducted for the aspirants at DEZINE QUEST to clear NIFT examination.
JOIN DEZINE QUEST AND TURN YOUR DREAM INTO REALITY.